Tattoo of the Day
12.26.17
Join us to watch resident artist Gao Feng (instagram @gaotattoo) cap off a shoulder with a beautiful Japanese traditional dragon! Call 413 527 6574 or go to www.offthemaptattoo.com/freeconsult to book a free consultation with Gao or any of our other talented artists!
11.19.17
<iframe src="https://www.facebook.com/plugins/video.php?href=https%3A%2F%2Fwww.facebook.com%2FOffTheMapTattooNE%2Fvideos%2F10155910111911977%2F&show_text=0&width=560" width="560" height="315" style="border:none;overflow:hidden" scrolling="no" frameborder="0" allowTransparency="true" allowFullScreen="true"></iframe><br>
Tattoos For Equality Benefit at Off The Map Easthampton ballroom
Come on down now to get a tattoo today for the Tattoos For Equality Benefit.

Benefit day is one of the highlights of the year since starting the annual event in 2010. Tattoos from this flash sheet will be $100 each this year, and 100% of the proceeds will be donated to the National Coalition Against Censorship, meaning that for every tattoo made, $100 will be donated. The National Coalition Against Censorship (NCAC) is an alliance of more than 50 national non-profit organizations, including literary, artistic, religious, educational, professional, labor, and civil liberties groups. NCAC's mission is to promote freedom of thought, inquiry and expression and oppose censorship in all its forms. NCAC is unique in that they are national in scope, but often local in their approach. For more information:http://ncac.org/about-us

Flash designs were created by Off The Map Tattoo resident artists Tim Senecal, Haley Gogue, Sydney Beene, Mark Tousignant, Nicole Laabs, Laura Jade, Oleg Turyanskiy, Matt Driscoll, Bri Howard, Gabriel Londis, Ben Licata, Maximilian Rothert, Justin Wayne, Asia Rain, Tyler Chaney, Dee Soto, Ryan Muldoon, Ed Lott, Jeff Gogue, Gao Feng, and Kellsey Mull.

Thanks for sharing.

Hey there! Daddy Jack is looking for two canvas' to tattoo at the Wichita Falls Expo at the beginning of June. He still has June 1st and June 3rd open to whoever puts down a $200 deposit for a tattoo that fits a category, to hold their spot. Please contact us if you're interested and we'll give you all the information you need to know!
Since Lia will be out until August our very own Brittany Von Behren will be filling most days.
Avalible for walk-in piercings; First come, first served:
Wednesday & Thursday 12:00 noon - 10:00 pm
Friday & Saturday 12:00 noon - 12:00 am
Sunday 12:00 noon - 8:00 pm
Availible for walk-in laser; First come, first served:
Wednesday & Thursday 12:00 noon - 10:00 pm
Friday & Saturday 12:00 noon - 12:00 am
Sunday 12:00 noon - 8:00 pm
*There will not be a piercer or laser tech on Modays and Tuesdays until further notice*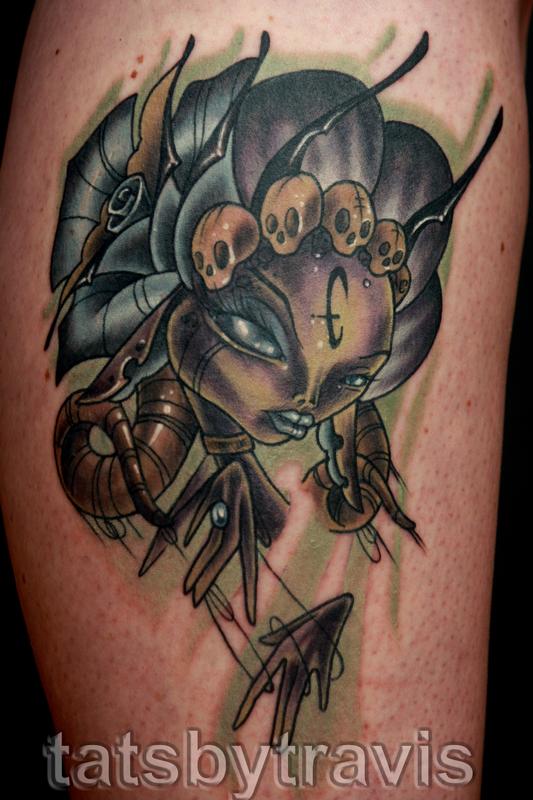 Currently Booking Tattoos in Bloomington Indiana Currently Tattooing at Crimson Breed Tattoo Studio Specials on Travis Litke Original Art Tattoos Contact Travis Litke via website or call 1-812-822-1346 for more information. Travis Specializes in New School Full Color Tattooing