Tattoo of the Day
11.19.17
<iframe src="https://www.facebook.com/plugins/video.php?href=https%3A%2F%2Fwww.facebook.com%2FOffTheMapTattooNE%2Fvideos%2F10155910111911977%2F&show_text=0&width=560" width="560" height="315" style="border:none;overflow:hidden" scrolling="no" frameborder="0" allowTransparency="true" allowFullScreen="true"></iframe><br>
Tattoos For Equality Benefit at Off The Map Easthampton ballroom
Come on down now to get a tattoo today for the Tattoos For Equality Benefit.

Benefit day is one of the highlights of the year since starting the annual event in 2010. Tattoos from this flash sheet will be $100 each this year, and 100% of the proceeds will be donated to the National Coalition Against Censorship, meaning that for every tattoo made, $100 will be donated. The National Coalition Against Censorship (NCAC) is an alliance of more than 50 national non-profit organizations, including literary, artistic, religious, educational, professional, labor, and civil liberties groups. NCAC's mission is to promote freedom of thought, inquiry and expression and oppose censorship in all its forms. NCAC is unique in that they are national in scope, but often local in their approach. For more information:http://ncac.org/about-us

Flash designs were created by Off The Map Tattoo resident artists Tim Senecal, Haley Gogue, Sydney Beene, Mark Tousignant, Nicole Laabs, Laura Jade, Oleg Turyanskiy, Matt Driscoll, Bri Howard, Gabriel Londis, Ben Licata, Maximilian Rothert, Justin Wayne, Asia Rain, Tyler Chaney, Dee Soto, Ryan Muldoon, Ed Lott, Jeff Gogue, Gao Feng, and Kellsey Mull.

Thanks for sharing.

11.18.17
1st December to 10th December 2017 Opening view: Friday 1st December 2017
LONDON: The Underdog, a multipurpose contemporary art gallery in London Bridge, is proud to present the first solo exhibition by British figurative artist Chris Guest. Chris combines figurative traditions with a modern subject matter. The exhibition will feature new artworks including original oil paintings, watercolours and limited edition prints. The opening view will take place on Friday 1st December.
Chris' work focuses on subjects that are heavily tattooed, mainly from the London rock scene, to create
paintings with a sexy edgy rock and roll aesthetic. The paintings are provocative yet inoffensive and accessible creating a unique signature style. This year has seen Chris exhibit in group exhibitions at The London Tattoo Convention, Modern Eden Gallery in San Francisco and Palour Gallery in New York.
Since 2011 The Underdog has been an independently run and versatile gallery space located under one of the last remaining arches in London Bridge. The gallery exhibits and sells contemporary fine art, modern art, post-war pop art, urban / street art, sculpture and outsider art with a unique aesthetic. The venue also supports the artistic community, across genres, by hosting a variety of cultural events most nights of the week. CONTACT: Ayesha Mahomed, PR & Marketing / Ayesha@theunderdog.london / 07950 503 990
ARCH 6, Crucifix Lane, London Bridge, SE1 3JW 020 7403 7837 / www.theunderdog.london
At age 18, Chris began showing his work in galleries in Cornwall and has since exhibited in several group shows throughout the UK and the US. Chris' originals and prints are collected worldwide and his art has been featured in many magazines, publications and galleries around the globe. Chris trained at London Fine Arts in Battersea and holds regular workshops in the UK and the US.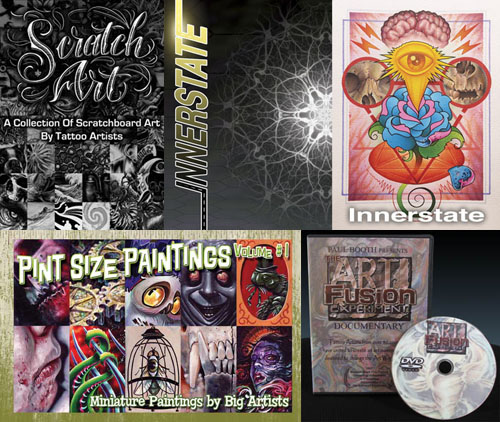 We have some great gifts available at Hyperspace Studios, with Christmas shipping inside the US guaranteed on all orders received by noon on December 18th. If you are stumped about what to get for the art fan in your life we recommend the Tattoo Community Project Pack which bundles together several particularly cool items for one low price! These include Scratch Art, featuring scratchboard art by hundreds of artists in a highly diverse collection; Innerstate, a book and documentary DVD showing about tattoo artists creating visionary art pieces; The ArtFusion Experiment, Paul Booth's documentary about live collaborative art performances; and Pint Size Paintings, a pocket sized book featuring tiny pieces of epic art. All of these items are loaded with surprising creative content that will inspire and entertain anyone with an interest in the tattoo world. As our Featured Item, it has free US shipping, plus free shipping on all items ordered with them!
(FREE SHIPPING to US orders only.
Order more items and get the shipping special on your WHOLE order!!
Any additional shipping charges will be refunded when order is filled)
Our 2017 Christmas Event is LIVE!
All Gift Certificates are Buy One Get One Free up to $500.
Every $100 purchase equals one entry into our drawing for one of three FREE tattoos.
1st Prize - 4 Hour Tattoo Session
2nd Prize - 2 Hour Tattoo Session
3rd Prize - Studio Minimum Tattoo
MERRY CHRISTMAS!!!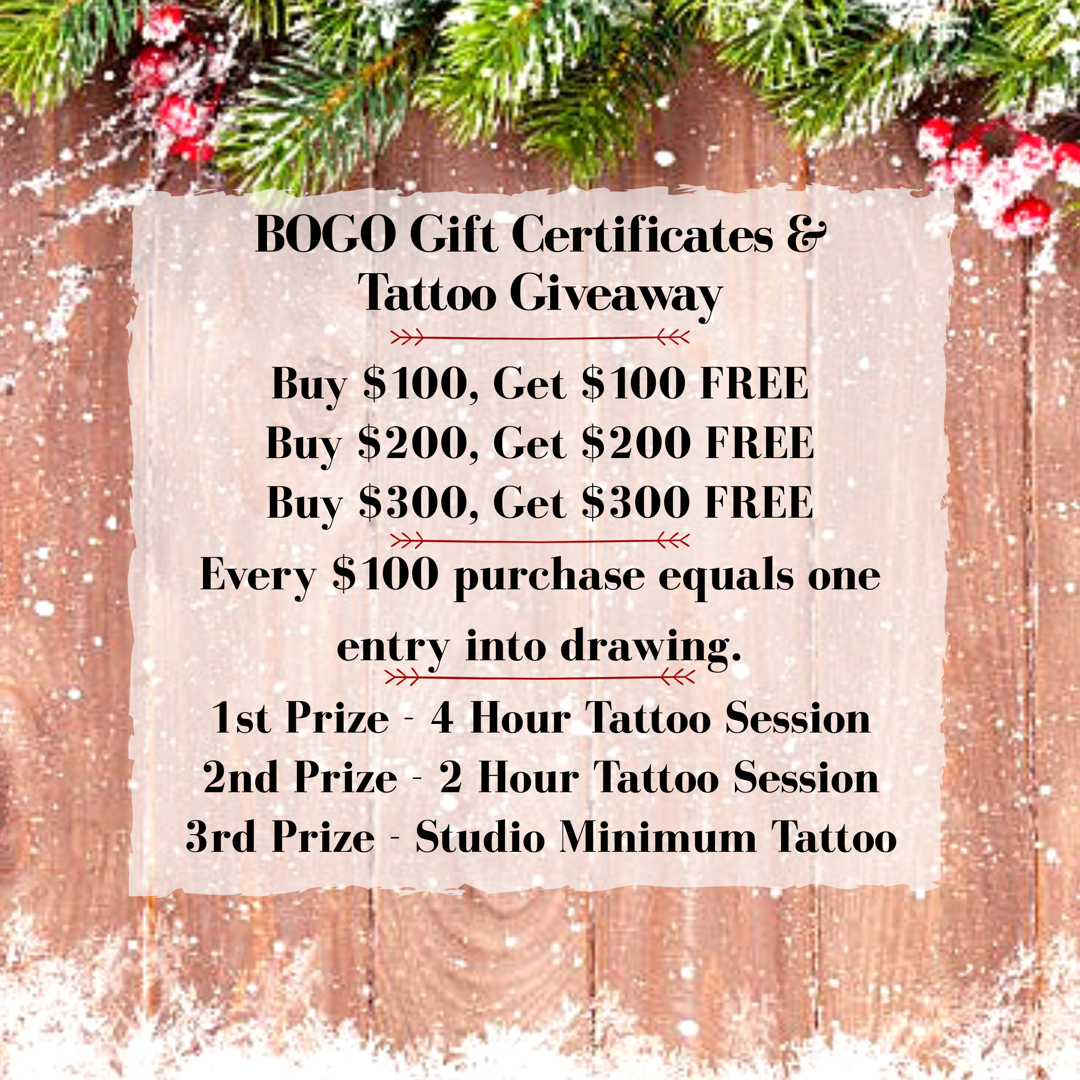 For ONE DAY ONLY, December 16 2017, as a Christmas Charity Fundraiser, The Jolly Octopus will transform into an American Traditional Tattoo Parlor. We'll be tattooing classic designs from Sailor Jerry, Cap Coleman, Bob Shaw and more.

And the best part? We're tattooing for Old School Prices! For ONE DAY ONLY, on DECEMBER 16, tattoos will be as low as $50, and NO TATTOO WILL BE OVER $250!!

All shop proceeds will benefit the Christchurch City Mission, who run the local Food Bank. Because no one should be hungry at Christmas.

So come on in and pick something off the wall - you'll be doing a good deed! :)

PS. If don't want to get tattooed (maybe American Traditional's not your thing), call round and donate some canned goods, baby food, and diapers - they always need 'em!

*Note: Because we're doing super-low prices for charity, this is one day of the year when you should leave the vouchers at home.